Hoonigan, founded by Ken Block in 2010, originally started out as a racing team but is now much more than just a brand or company . . Hoonigan is now a lifestyle for horsepower, whether that be drifting, off road or drag racing.
KustomYard.com are proud to support Hoonigan and offer high quality official apparel within Europe including T-Shirts, Hoodies, Caps and also a wide range of hooning stickers. Our products ship from the UK so delivery is fast, and service comes first.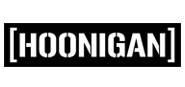 And incase you were wondering exactly what (or should we say who) a hoonigan is:
Hoon-i-gan \ hoon'-i-gan\ n.
A person who operates a motor vehicle in an aggressive and unorthodox manner, consisting of, but not limited to, drifting, doughnuts, as well as acts of automotive aeronautics. One who hoons.